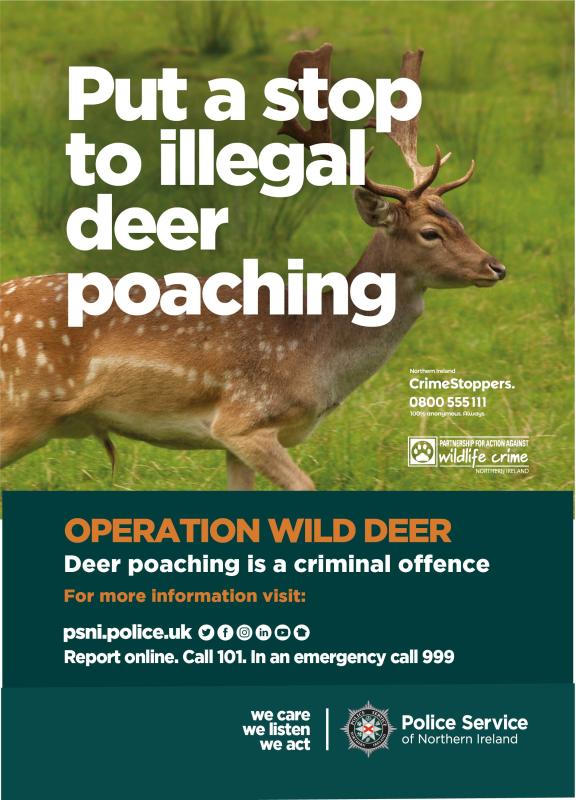 Police in Strabane are investigating after a deer carcass was found on land on Kirlish Road in Drumquin at the weekend. 
A report of suspected deer poaching in the area was made to police at around 4.15pm on Sunday, 29 October. Two men were reportedly seen in the area where the carcass was found in a field. Anyone who was in the Kirlish Road  area between 3.30pm and 4.15pm on Sunday, and saw anything suspicious, or out of the ordinary, or has information about this incident, is asked to call police on 101, quoting reference number 1294 of 29/10/23.
Wildlife Crime 
A Police Service spokesperson said: "The Police Service takes all concerns regarding wildlife crime seriously, and will investigate accordingly. 
"Deer are protected by law within the Wildlife (Northern Ireland) Order 1985. PSNI's 'Operation Wild Deer' initiative aims to raise awareness of deer poaching, and we work in conjunction with partner agencies to help address these issues.
"It is also worth noting on occasions when officers are considering deer poaching, firearms offences may also be established. Shooting on unfamiliar land is not only dangerous, but may also constitute a criminal offence and will be investigated as such."
Anyone who has concerns about wildlife crime should contact Police on 101, or report anonymously via Crimestoppers on 0800 555 111.