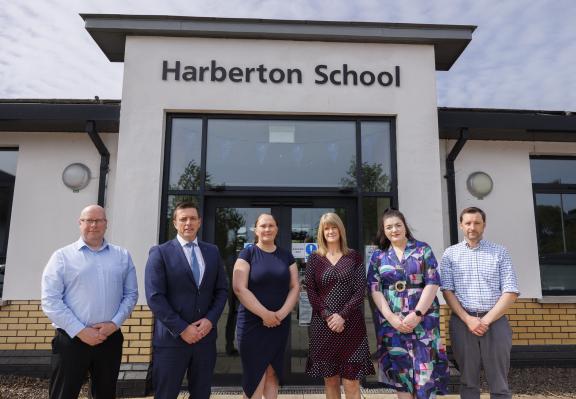 Domestic abuse child survivor hails scheme designed to support young people affected by violence and abuse in the home.
Operation Encompass today, Wednesday 17th May, is being rolled out to the final tranche of 202 school settings, across the Belfast Trust area, meaning it is now fully operational across all 1,162 schools and EOTAS (Education Other Than at School) centres in Northern Ireland. This is following its initial pilot launch in 2021 in Downpatrick and staged expansions to other districts across Northern Ireland since.
The scheme is a partnership between the Police Service of Northern Ireland, the Education Authority, and education providers. It means if Police attend a domestic abuse call, and children are present, Operation Encompass allows the officers to pass on relevant information to the safeguarding team at the child's school before 9am the following morning, so the right support can be put in place.
Paul (not his real name), now a 28-year-old adult, experienced and witnessed domestic abuse at the hands of his father from the age of six until 17. He has now spoken out publicly as a supporter of this scheme saying: "It started when I was really young in primary school, I would hear all the arguing between my dad and my mum. I isolated myself in my room a lot of the time. When my mum left my dad, he got custody of me at the weekends. He would drink a lot and turned the abuse on me. Monday at school, after my weekends with him, was like my reset day. I remember being quiet, snapping at people who tried to talk to me and feeling drained with no one to talk to. Having this scheme available for children who are in the same position as I was, can only do great things. It provides them with a safe place, where they have the option of someone to talk to, on their terms. It takes away the onus on the child to speak out about something they don't fully understand themselves."
Across the previous areas within the Northern, Western, Southern and South Eastern Trust areas, Police have attended 2,121 domestic incidents with 3,774 children exposed to domestic abuse from the start of the 2021 school year, until 30th April 2023. This has resulted in 3,160 referrals being made by Police to the designated teacher at the relevant school.
The final rollout across Northern Ireland includes schools of all types – Nursery, Primary, Post Primary, Special, EOTAS, Irish Medium and Independent Christian.
Detective Superintendent Lindsay Fisher from the Police Service of Northern Ireland's Public Protection Branch said: "We respond to around 90 domestic abuse calls for service each and every day, and unfortunately children are often present. 
"Operation Encompass really recognises children as unseen victims of domestic abuse. We know the impact of the trauma that children experience from seeing, overhearing or coming back into a house where there has been a domestic abuse incident.
"The scheme allows us to share information with schools in quick time so that we can best protect and support children through times that are incredibly difficult for them.
"School is often seen as a 'safe place' for a child in these circumstances and the support and understanding that teachers can provide should never be underestimated.
"We are delighted that this scheme is now fully operational across all schools in Northern Ireland. We are working in partnership to break the cycle of abuse."
Michael Kelly, Head of Service for the Child Protection Support Service, at the Education Authority, said: "The development of Operation Encompass is a demonstration of our commitment, to ensuring that all of our schools are equipped to support the most vulnerable children.
"Sadly, we know that domestic abuse is a common feature in the lives of many children. Feedback from schools to date has indicated that Operation Encompass has been transformational in terms of teacher's ability to provide timely and informed support to child victims of domestic violence. I welcome to final stage of this regional rollout and look forward to continued work with our partners in this area.
"I would like to pay tribute to school based staff who have worked very hard in a challenging environment to get us to this point."
Women's Aid Federation NI CEO, Sarah Mason said: "Women's Aid NI welcomes the final roll out of Operation Encompass across Northern Ireland.  We know from our extensive experience of supporting children that often the smallest victims of domestic abuse are the biggest...they see it, hear it, feel it and fear it.
"In the aftermath of a domestic abuse incident, children can be extremely upset, frightened, tired and confused and teachers need to know and understand the reasons for this. Children often tell us that school is their safe place so it is vital that teachers are aware of and understand the situation at home and the child's support needs, which must be paramount.
"Op Encompass is a simple yet hugely important initiative that puts the child at the centre, and ensures teachers are informed, enabling them to fulfil their role as a social guardian."
Permanent Secretary for Department of Education Dr Mark Browne said: "The Department has co-ordinated the introduction of Operation Encompass across education settings and we are aware of the positive impact the scheme has made in ensuring support in a school environment for children affected by domestic abuse. This includes building in arrangements for some of our most vulnerable young people, who may not be able to verbally communicate what they have experienced.
"Operation Encompass is a partnership and I commend the Education Authority and Police Service of Northern Ireland for their work in equipping and supporting staff during the roll out of this valuable initiative."