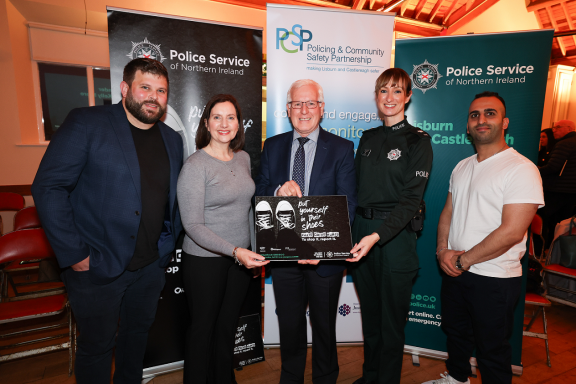 Lisburn and Castlereagh Policing Community Safety Partnership and the Police Service of Northern Ireland hosted a Hate Crime Awareness public meeting in Moira on 17th October, to coincide with Hate Crime Awareness Week. The theme of the evening was to prompt the public to 'put yourself in their shoes' and think about how they would feel if they were a victim of a hate crime incident. The event was supported by Hate Crime Advocacy Service, to highlight the devastating impact that hate crime has on victims and to encourage people to report hate crime when they see it. 
Northern Ireland has a reputation of being a welcoming place but that is not the experience of people who experience hate crime incidents.  No-one has the right to perpetrate hate on any individual simply because of their background, race, religion, faith or how they identify.  This week, and in weeks to come, we are asking everyone to reflect on how they would feel if they were 'in the shoes' of a victim of a hate crime or hate incident. 
District Commander for Lisburn and Castlereagh, Superintendent Kelly Moore commented: "I very much welcomed the opportunity to speak at this event and provide an update on the ongoing work of our local officers to prevent hate crime, and highlight our continued efforts to engage with the local community to increase their confidence in the Police Service.  We all have a responsibility, individually and collectively, to challenge and eradicate hate in our society.  It is also critical that victims report their experiences to police, as we can only work to prevent crimes that we know about. If you feel that you cannot do this, then we would encourage you to contact the Hate Crime Advocacy Service for support. We are very much committed to working in partnership with the PCSP and the wider community, in all its diversity, to achieve sustainable solutions which make a difference to local community safety."
Lisburn and Castlereagh PCSP Chairperson, Councillor Alan Givan commented," The PSNI have an important role in protecting those who may become the victims of hate crime.  The PCSP has identified hate crime as a priority in their action plan and would encourage people who experience hate crime to report this to police and call for those who perpetrate such incidents to stop and think about how they would feel if they were in a victims shoes."
Michael Avila from the Hate Crime Advocacy Service said "The Police Service, and the Hate Crime Advocacy Service, work together to support the victims of hate crimes and incidents.  We offer a safe and confidential space to provide help to victims.  We can support you regardless whether or not you have reported a crime to the police.  Free and confidential help is available and we encourage anyone who has experienced a hate crime or incident to contact the Advocacy Service".