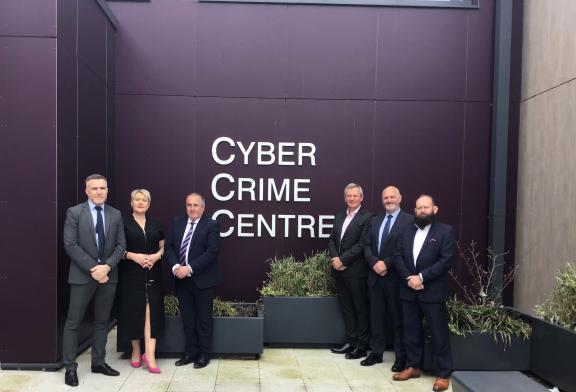 Detectives from the Police Service of Northern Ireland's Organised Crime Branch recently welcomed representatives from the Department of Justice (DoJ)
On Friday 19 May the DoJ's Permanent Secretary Richard Pengelly; Mark Goodfellow, Director of Safer Communities; and Graham Walker, Head of International Criminal Justice Cooperation visited a number of teams across the Branch.
The visit started at Grosvenor Road Station and included a briefing from Detective Chief Superintendent Andy Hill and Detective Superintendent Emma Neill.
A tour of the station provided a broad oversight into the different teams working in the Organised Crime Branch, including Organised Crime Unit and their work to tackle the harm from drugs, the Paramilitary Crime Task Force and Modern Slavery & Human Trafficking Unit.
The visit was complete with a tour of the Police Service's Cyber Crime Centre in Belfast's Lislea Drive.  Here, Detective Chief Inspector Paul Woods outlined current cyber financial threats, from ransomware attacks to fraud.
The team detailed its broad ranging efforts to keep individuals and businesses safe, and how it works behind the scenes to help solve the most serious crimes.
Commenting on the recent visit, Detective Chief Superintendent Andy Hill said: "We were delighted to host representatives from the Department of Justice to our Organised Crime Branch.
"The visit provided an insight into what our teams do day-to-day and how we continually work, alongside our partner agencies and other police forces, to tackle and disrupt the activities of harmful organised crime groups,
"Unfortunately, these criminal groups typically seek to exploit the most vulnerable in our communities. The crimes may vary, but there's one common motive: financial gain.
"Ultimately, they don't care about the wider impact they have on their own communities and public services. All they care about is lining their own pockets, and we are determined to continually disrupt their criminal activity and bring those responsible before the courts."
Find out more about the Police Service's Organised Crime Branch by visiting: https://www.psni.police.uk/about-us/our-departments/crime