The Police Service of Northern Ireland is supporting this week's national ShopKind campaign, by reminding customers across Northern Ireland of the importance of being considerate to shop workers and to each other.

The campaign, which runs from Monday 17th April until Sunday 23rd April, is backed by the Home Office and supported by over 100 leading high street retailers, shopkeepers and trade union USDAW.

It is appealing to everyone to acknowledge the important role of shop workers, and raise awareness about the scale and impact of violence and abuse against them. 

The campaign has been launched just as new consumer polling conducted for the #ShopKind campaign reveals that more than one in three people believes shopping has become more frustrating as a result of the cost-of-living crisis, with 36 per cent of customers having personally witnessed a shop worker being verbally or physically abused by another customer.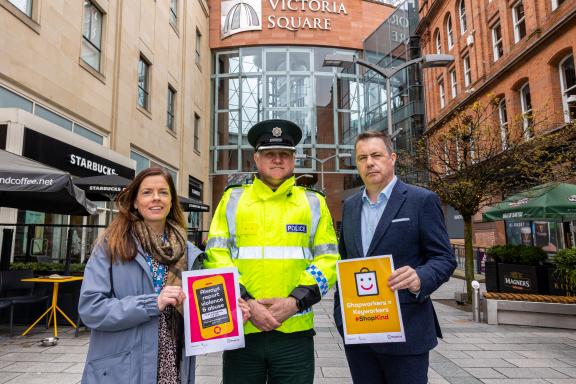 Showing their support for ShopKind Week are (from left) Eimear McCracken, Operations Manager of Belfast One BID, Police Service of Northern Ireland Business Crime lead Chief Superintendent Darrin Jones, and Chief Executive of Retail NI, Glyn Roberts.

Chief Superintendent Darrin Jones, the Police Service's Business Crime lead, said: "As part of this week's national ShopKind campaign, we are keen to highlight the impact of such abuse and violence against shop workers, and remind those who engage in such unacceptable behaviour that this may constitute an offence and will be dealt with robustly.

"We want to encourage people in the community to practice positive behaviour when they are in shops, and to acknowledge the important role that shop workers play, and treat them with respect and kindness."

Chief Superintendent Jones also urged people to report offences to police, and to reach out to their local neighbourhood and crime prevention officers should they have any concerns.

He continued: "We believe everyone has the right to feel safe from crime, whether it's at home, whilst out and about, or in their place of work. Shop workers play a vital role in our community and should never have to endure abuse, let alone violence, as part of their working lives.

"Everyone has the right to go to work without the fear of violence or intimidation, and there is no excuse to treat shopworkers with anything but dignity and respect.

"We want to reassure those in the retail sector that we are here to support and work with you to protect employees."

Chief Superintendent Jones added: "If you have any information about someone who is abusive or violent towards retail workers, please let Crimestoppers know 100% anonymously on freephone 0800 555 111, or by completing a simple and secure Anonymous Online Form at www.crimestoppers-uk.org."

Retail NI Chief Executive Glyn Roberts said: "Retail NI fully support the ShopKind campaign, which brings together voices from across the retail sector, politicians and the Police Service of Northern Ireland to promote a message of respect for shop workers. Our colleagues USDAW's annual survey found that nearly three-quarters of those working in retail suffered verbal abuse last year, with far too many being threatened or assaulted.

"These are key workers delivering essential services and we stand together to say that abuse should not be a part of their job. We need better co-ordination to ensure that retail employers, police and the courts work together to make stores safer and give staff the support and confidence they need to report incidents. This week of action is a great step towards that aim."

Retailers who are keen to get involved with the campaign during #Shopkind Week can download supporting materials from the National Business Crime Centre website here: https://nbcc.police.uk/business-support/shopkind/shopkind-webpage.