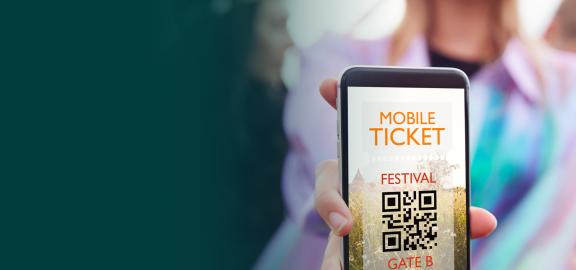 The Police Service has launched a social media campaign to raise awareness of ticket fraud, urging people to be wary of scammers while booking tickets for concerts and other events.

Nationally, £6.7 million was lost to ticket fraud in 2022, with 7,088 reports of ticket fraud last year in the UK. This included 189 reports of ticket fraud in Northern Ireland.

With summer here, and several concerts taking place across the region, many people will be searching for tickets and the best deals for music gigs or sporting events. Chair of ScamwiseNI Partnership, Chief Superintendent Gerard Pollock says the aim of the campaign is to stop people being left out of pocket.

"It can be so tempting to get caught up in the hype, and rush to have that must-have ticket for that sold-out gig, but you should never buy tickets from unknown websites or people you do not know. We know how disappointing it is to find out tickets for a show, or an event are all gone, but so do the criminals and they exploit that to target would be concert-goers," says Chief Superintendent Pollock.

"We're appealing to people to take steps to protect themselves from unscrupulous ticket sellers looking to take advantage of their eagerness to attend an event.

"In particular, I would ask parents buying tickets for kids and young adults going to a concert, and those who make a last-minute decision to go to a concert, to be extra cautious when buying your ticket. Too often, we see reports of tickets that don't appear at all, or are just screenshots of genuine tickets that won't get you any farther than the ticket barrier. "

Ticket fraud often involves the use of images and graphics taken from genuine sellers to make fake websites look like the real deal, or use contact through social media. The advertisement or offer may appear genuine, but there will be subtle differences buyers should look closely at the website address.

Recent examples in Northern Ireland involved the purchase of tickets on social media. Money was sent to the sellers, but the tickets were never received. When the buyers contacted the sellers they were blocked.

"The safest way to ensure tickets bought are genuine is to purchase them from the authorised ticket seller or authorised reseller," says Chief Superintendent Pollock.

"We'd also advise against buying tickets from other sources, such as third parties because you can never be sure of the validity and authenticity of the tickets. Ticket fraud is a continuing problem and fraudsters will try everything to lure people into falling for their scams. It is vital people take care when buying tickets. Do as much research as possible and, before parting with any money, follow the safe-ticket advice. Remember, if it seems too good to be true, it probably is."

If you lose money in a ticket fraud, report it to your bank and to Action Fraud on www.actionfraud.police.uk or call police on 101. You can also find out more on our website at http://www.psni.police.uk/ticket-fraud?



How to spot scam ticket websites 

1: Only buy tickets from a trustworthy, legitimate and authorised source such as the venue's box office, sports club, promoter, official agent or reputable ticket exchange sites.
2: Check with the event organiser/promoter/venue how and when tickets are sold. 
3: Never pay for tickets by bank transfer. 
4: Double-check all details of your purchase before confirming payment.
5: Be aware of fraudulent sites and never use links. Instead, type the address in yourself.