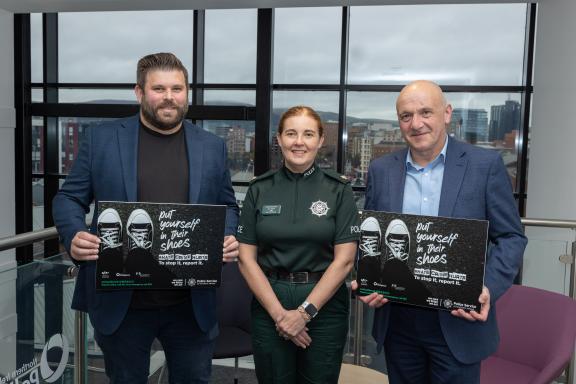 The Police Service of Northern Ireland, in partnership with the Northern Ireland Policing Board, Police and Community Safety Partnerships and the Hate Crime Advocacy Service, have today launched a new campaign to highlight the devastating impact that hate crime has on victims and to encourage everyone to report hate crime when they see it. 
The campaign, which is being launched during Hate Crime Awareness Week, has been developed to prompt the public to 'put yourself in their shoes' and think about how they would feel if they were on the receiving end of hate crime.
Launching the campaign Police Service of Northern Ireland Hate Crime lead, Superintendent Sue Steen said: "In the past 12 months, over 3,000 people have been the victim of a hate crime or hate incident and in a modern and diverse society that is simply not acceptable. 
"Northern Ireland has a reputation of being a welcoming place but that is not the experience of people who experience hate crimes or incidents.